An ex-colleague rang me up the other day, asking "what's that to-do list program you use? The one that goes 'ping'?" He'd been working from home for a couple of weeks, needed to organise all his jobs and hoped the encouragement of a satisfying noise when ticking off a task would help with focus and motivation.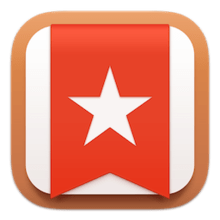 The answer was Wunderlist [insert your own imaginary announcement music here, da-da-dah!]
There are lots of programs you can use to organise your to-do lists: Reminders (iOS), To Doist, Evernote, Microsoft To Do; and then the myriad of more complicated project management programs: Trello, Asana, Monday, etc. My favourite program for ease of use and functionality for a simple to do list, is Wunderlist.
Why Wunderlist is awesome:
It's free
Easy to use – a basic list of things with check boxes next to them
Pleasurable 'ping' when ticking off tasks
You can get the app on your phone, iPad, computer, and access online, so you never leave it behind
More complex functionality is there for those who want it
Multiple lists can be collected together into folders
If you think of something you need to do for work when trying to get to sleep, put it straight on your work to do list from your phone and fall asleep safe in the knowledge it'll be on your desk the next day
You can share lists, so send your partner off to the supermarket and put more items on the shopping list whilst they are there
You can add subtasks (no satisfying ping for them though, alas)
You can add due dates
You can schedule reminders
You can sync with your calendar to add tasks into your diary
You can attach files, notes and comments to tasks
Star priority tasks, and see starred tasks together from all your separate lists
See tasks by the next week's deadlines
I could keep going but I'm sure you get the gist. I use Wunderlist every day for personal, home, work, sorting out the WI and making a note of craft projects I'd love to do one day. This is an actual shot of my Wunderlist today: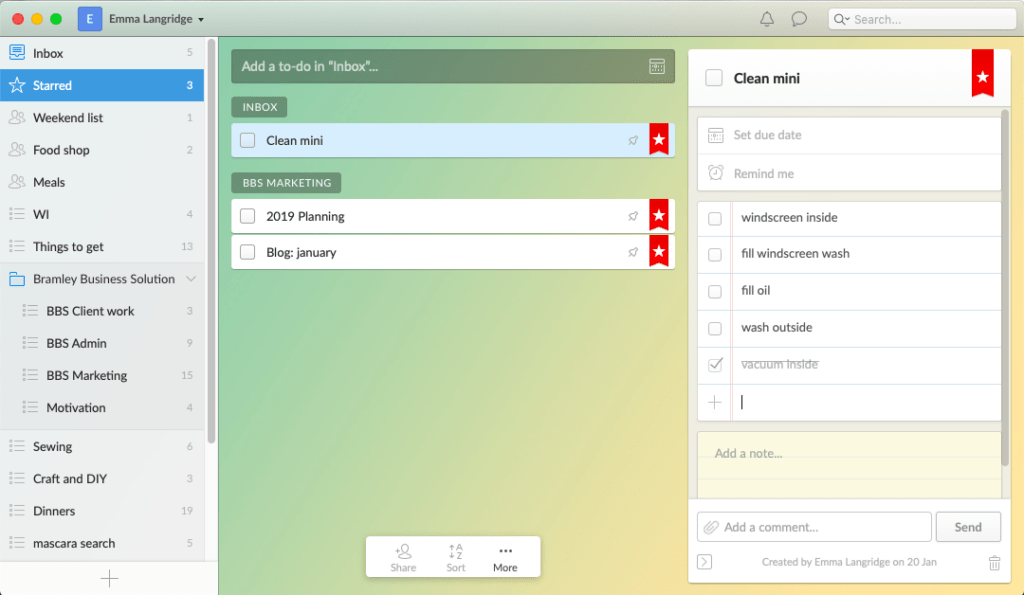 Down the left-hand side you can see all the lists – ones with people icons beside them are shared, and you can see the Bramley Business Solutions folder with tasks organised by topic. The middle is showing my starred jobs for today grouped by the list they come from. The right-hand side is showing the detail of the task "Clean MINI", with the subtasks, and you can see where to set the due date, reminder, add notes and comments.
Download Wunderlist from their website and step towards organising your life
I'm not getting paid for this – I have no affiliation with any program – and only recommend software that I truly love. I hope you get as much joy from Wunderlist as I do.
---
If you'd like to receive our weekly email with tips and articles for small businesses, as well as notifications of new articles like this, please sign up below: